Join us for lunch on September 9, 2016 as one of America's foremost authorities on transportation, Mr. Norman Mineta, discusses the history of transportation policy, and how it will impact our lives in the 21st century.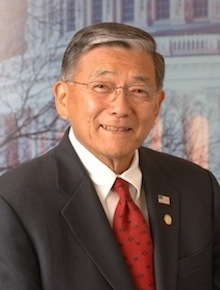 Mr. Mineta was the first Japanese-American mayor of a major US city – San Jose, and went on to become Secretary of Commerce under Bill Clinton, and Secretary of Transportation in the George W. Bush administration. He has a history of significant accomplishments in both the private and public sector, including many years at Lockheed.
The Mineta Transportation Institute is housed at San Jose State University, and the Norman Y. Mineta San Jose International Airport bears his name in honor of his service to the nation, and his city.
Friday September 9, 2016
The Benson Hotel Crystal Ballroom, 309 SW Broadway, Portland, OR 97205
Schedule
11:45am Registration opens, lunch buffet open, non-reserved seating
12:15pm Welcome, Program begins
12:20pm Mr. Mineta's Presentation
12:45pm Q&A
1pm or soon thereafter – Close
Registration Fees
JASO Members $30
Non-Members $40
World Affairs Council Members (promo code required) $30
Oregon Nikkei Endowment Members (promo code required) $30
Register at: https://japanamericasocietyoforegon.wildapricot.org/event-2299454
Questions: info@jaso.org or (503) 552-8811
Hosted in collaboration with the Oregon Nikkei Endowment.

Presented by Delta Air Lines, flying nonstop from PDX to Tokyo