11:30am-1:30pm Wednesday February 19th
Hilton downtown Portland, 925 SW 6th Ave

Join us and support the discussion and education on women's leadership and empowerment in the workplace.
Three prominent women leaders:

from Japan an international correspondent and executive producer at the country's leading media outlet,
nationally a Japanese-American leader across business sectors at the US subsidiary of Japan's iconic auto maker Toyota, and
locally, a Japanese-American who led several brands at Nike
Learn their personal stories, and how as women they managed to break barriers, gain leadership skills, and develop their own potentials in some of the most male-dominated businesses globally.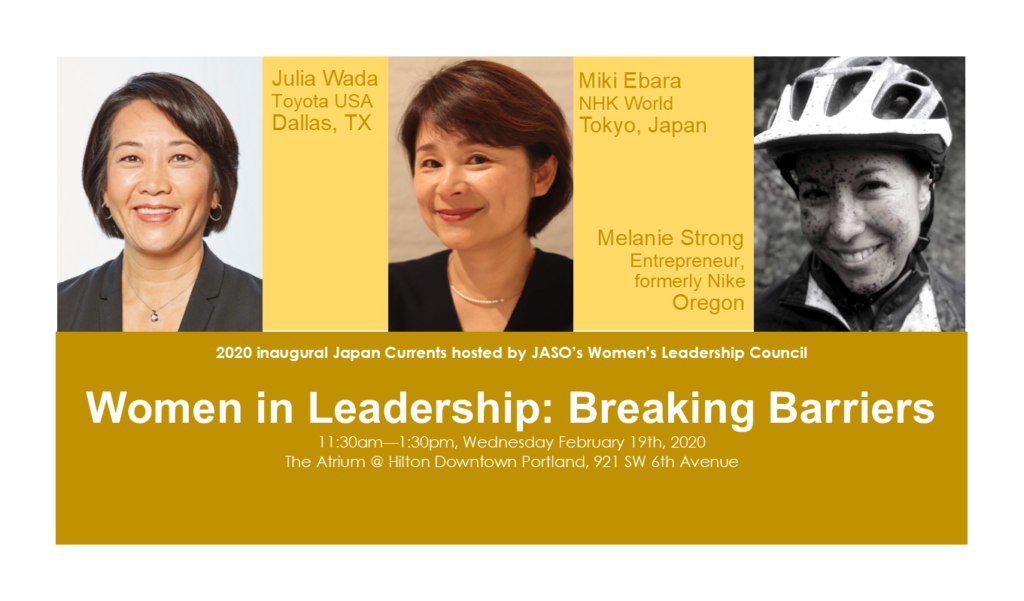 Miki Ebara was one of the first female foreign correspondents at NHK, and has built her career living in London, Bangkok and New York. Miki has traveled the globe to report from war zones, and on elections, natural disasters and nuclear weapons. Now based in Tokyo as Executive Producer and Chief International Correspondent at NHK World, Miki brings a Japanese perspective on women at work around the world, and at a major Japanese media corporation.
As Group Vice President for Corporate Strategy & Innovation at Toyota Financial Services (TFS), Julia Wada directs strategy research and innovation, and sits on the Executive Management Committee. Julia has developed her career at Toyota over 29 years, managing and leading in product planning, eBusiness, Human Resources, Real Estate, Diversity & Inclusion, and Information Technology. As a female of Japanese-American heritage, working at an iconic Japanese company US subsidiary over a period of significant transformation, Julia has a unique perspective on female leadership and the cross-cultural dynamics of the workplace.
Melanie Strong has a Japanese mother and lived in Kobe as a child. After landing at Nike, she progressed through 17 years in positions including VP NikeWomen and General Manager Nike Skateboarding. Now a business entrepreneur in Hood River, and as part of a venture capital group in the sports and health tech sector, Melanie has played a significant role as a voice and as a leader for women in sport, both in the marketplace and in the workplace.
Registration HERE
Event made possible by:
Event sponsors include: