2020 JASO Business Speaker Series
Tuesday July 21, 4-5:30pm US Pacific Time
Wednesday July 22, 8-9:30am Japan Time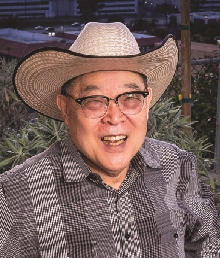 Join us for a virtual "fireside chat" with Junki Yoshida in English on Zoom.
The Junki Yoshida life story is an amazing journey of a kid from Kyoto who at 19, came to the Pacific Northwest with a dream and $500 in his pocket. A self-made entrepreneur, the Yoshida Group has grown from the humble beginnings of a family recipe for teriyaki sauce served to students who studied karate under him; into a conglomerate of real estate ownership, bottling plants, restaurants, soda production and co-packing facilities. Junki is a recognized TV personality and comedian with celebrity status in Japan, and his latest book has just been published. Check it out here.
Junki's commitment to giving back to the community is equally strong, giving millions of dollars for community causes and medical care organizations.
Junki's passion, spirit and enthusiasm are unparalleled. Now is your opportunity to ask Junki any question you wish; about life, business, entrepreneurship, his motivations, vision for the future, or any other topic of your choice. Our fireside chat is a pre-moderated Q&A session on Tuesday July 21st at 4pm Pacific Time.
Your question should be submitted in advance at the time you register, or by emailing them to gmorris@jaso.org. We'll take as many as we can, but please submit prior to the event.
Program
4pm Welcome
4:05-4:50pm Q&A Session
4:50-5:20pm Networking on Zoom
JASO Members free, or $15 donation
JASO Non-Members $20 fee
With thanks to our 2020 Business Series Sponsors