"Dances of Three Nations:" August 20, 2022 at 2:00 p.m. at "The Round" (12600 SW Crescent Street, Beaverton, OR 97005)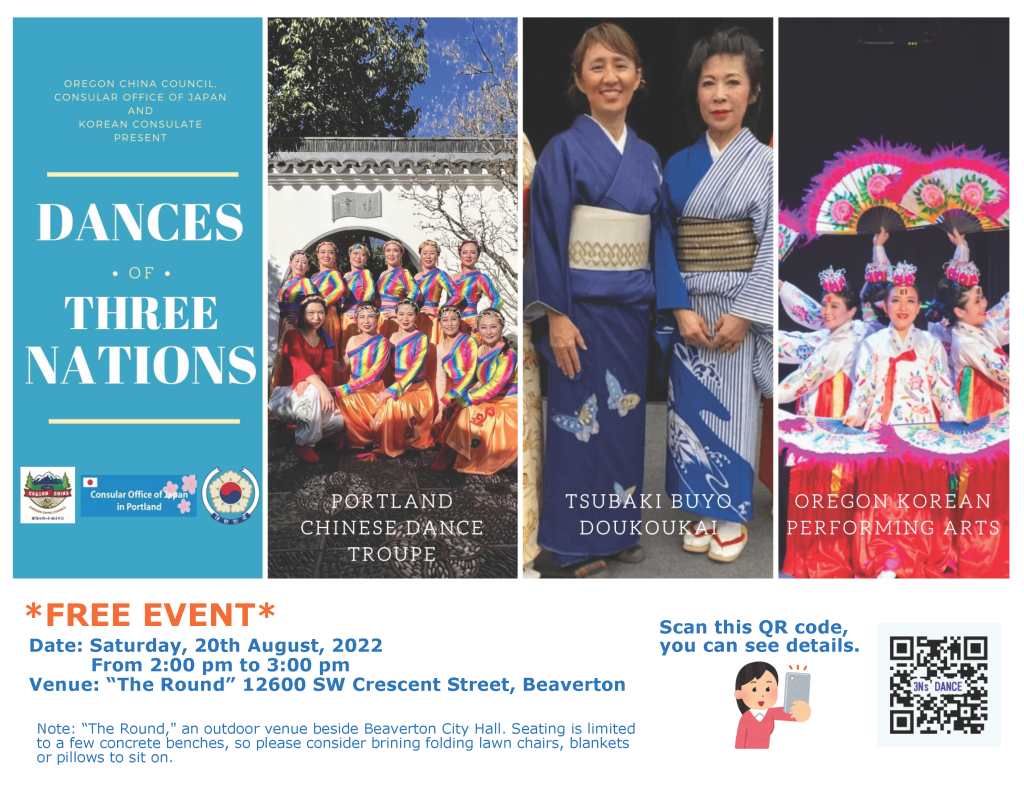 The Chinese, Japanese and Korean communities in Portland, Oregon are cooperating once again to bring this free musical performance—Dances of Three Nations–to the larger Oregon community. Performances will feature traditional music and dances from the three nations. The goals are to unite the three communities and to educate the public about the music, dance, and cultures of China, Japan and Korea.
This event is the seventh in a series that began years ago with Strings of Three Nations (2015), followed by Dances of Three Nations (2016), Drums of Three Nations (2017), Voices of Three Nations (2018), and Flutes of Three Nations (2019), and Mask Dances of Three Nations (2020). Please join us!
This event is an outdoor, in-person event. The venue, "The Round," has limited seating on concrete benches so guests may want to bring lawn chairs, blankets and pillows to sit on. All are welcome to join, but registration is requested on Eventbrite at:
https://www.eventbrite.com/e/dances-of-three-nations-tickets-273585249847
The idea for this series of performances originated in 2015 with officials from the Oregon China Council, the Consular Office of Japan in Portland, and the Honorary Consulate for the Republic of Korea in Portland. In a joint statement at that initial meeting, the group stated, "We want to show that, despite the political tensions in many parts of the world today, our respective communities in Portland serve as a model of cooperation and friendship. In this spirit, we are delighted to share an afternoon of Chinese, Japanese, and Korean cultures with the citizens of Oregon."
Dances of Three Nations event will feature presentations by the Portland Chinese Dance Troupe, Tusbaki Buyo Doukoukai (Japan), and Oregon Korean Performing Arts troupe. These groups are well respected and have performed throughout the Pacific Northwest. The Chinese group will showcase "Butterfly Lovers" and "The Love Song of Kanding," a Tibetan dance that tells the story of young lovers, Zhang and Li. The Japanese group will feature "Ogizukushi," with two fans being held by each dancer, "Jyongara Bushi," and "Matsu no Midori," a congratulatory dance which bestows good fortune." The Korean troupe will perform "Fan Dance" developed in the 18th century to represent the Korean national flower, butterflies and ocean waves, and "Gang-Gang-Sullae," an ancient Korean dance associated with the full moon festival.