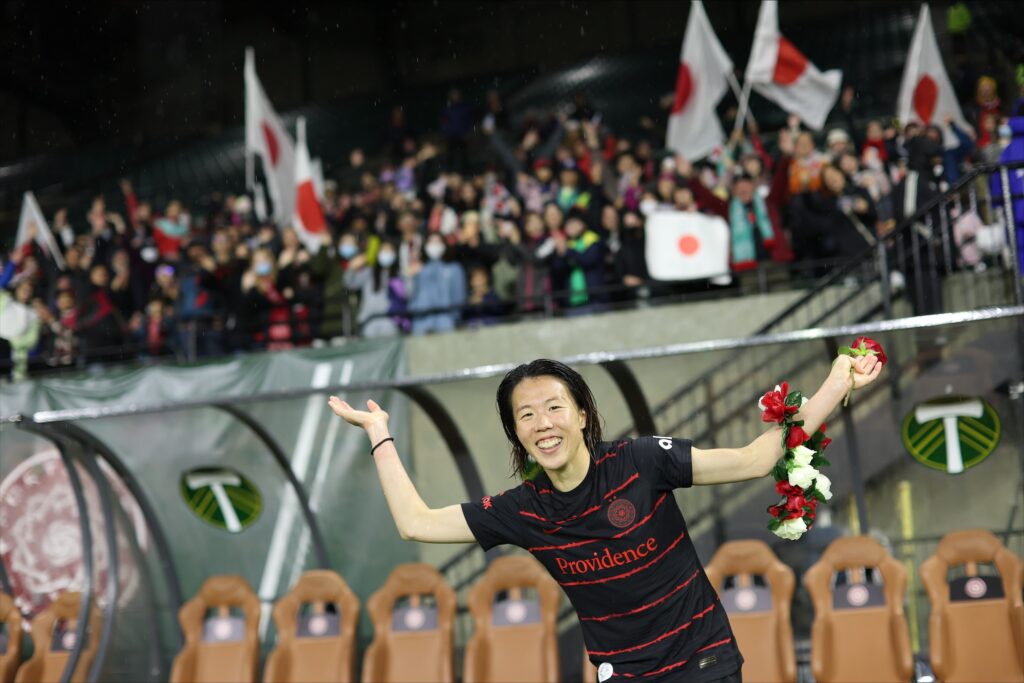 今年からポートランド・ソーンズFC (英語 : Portland Thorns FC) に、日本女子代表のミッドフィールドサッカー選手、杉田妃和さんが加わり、嬉しいことにポートランド・ソーンズFCはプレーオフに進出が決定しました。10月23日に準決勝戦がプロビデンスパークにて開催されます。杉田選手とチームをサポートするために、一緒に応援しに行きませんか。
Please join us as we to create a Cheer Section for Portland Thorns' Japanese international soccer star, Hina Sugita, at the Portland Thorns semifinal game in the 2022 NWSL Playoffs at Providence Park on Sunday, October 23, kickoff at 2pm.The Thorns will play the winner of the San Diego/Carolina game played on 16th.
詳細は以下の通りです。日程:10月23日(日)、午後2時より場所:プロビデンスパーク・ホームゲーム チケット代:お1人$25
締め切り:10月14日(金)午後5時まで
チケットは事前にメールにて送らせていただきます。キャンセルされる場合、返金はいたしかねますのでご了承ください。正確な座席は参加人数より確定いたしますが、セクション219-222当たりの見込みです。座席の場所についてはこちらをご覧ください。Thornsのギアを身に着けたり、応援ボードを掲げて一緒に応援してください。応援ボードを準備する上でのルールについてはこちらのリンクをご参照ください。
Bring your voice, wave a flag, wear your Thorns gear; come and add to our party atmosphere and sit in our special section of the stadium. Exact seats to be determined dependent on final size of our group, but somewhere in the 219-222 seating section (same as May game). Click here for game view.
Tickets are just $25 each.
For full details on how to make a banner and the venue Guest Guide, click here.
You must register here and pay by 5pm Friday, October 14. Your e-tickets will be sent to you the week of the game. No cancellations or refunds.