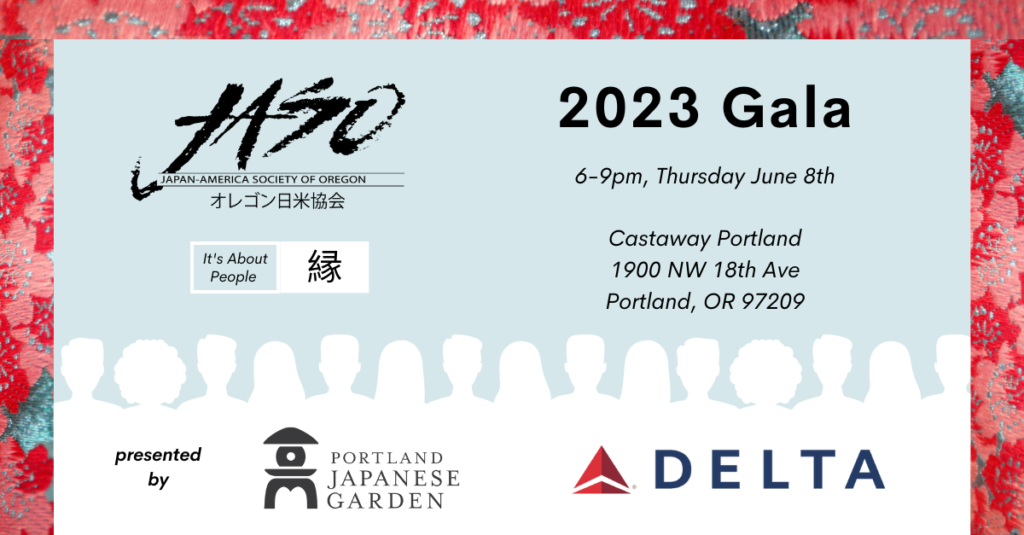 Thank you to all who joined us for a wonderful evening of greeting friends, new and old, enjoying tasty refreshments, and supporting JASO's programming. Photos from this event are available HERE.

Theme: Celebrating 縁, en, all the threads of relationships that create our community tapestry. Or as we say, "it's about people"

Stage Program: a short program from stage includes welcome, acknowledgements, a short introduction from our new Consul General Yuzo Yoshioka, and our Annual General Meeting to elect our new Chair and Board of Directors. Later in the evening we'll host an oral auction that includes two round-trip main cabin tickets PDX-Tokyo from Delta Air Lines and a private party in the Sky Box of a Timbers or Thorns game from United Grain Corporation.

Entertainment: the beautiful koto music of Mitsuki Dazai
Food all included: a full setting of heavy hors d'oeuvres
assorted sushi (variety of rolls, salmon, hamachi and tuna nigiri)
vegetable harumaki with dipping sauce
chicken karaage with kewpie and togarashi
shokupan toast canape of egg salad & ikura, mozzarella & chirimen
bacon-wrapped enoki
beef tenderloin tataki bites with fried garlic, shiso, scallions, ponzu & shaved daikon
Japanese cucumber, shiso-marinated tako, cherry tomato skewer with miso karashi viniagrette
Beverages all included: Culmination IPA and lager, Sapporo Premium Beer, pinot noir and chardonnay from Denison Wines, sake from SakeOne, non-alcoholic selection
Suggested Attire: this one's always tricky because yes it's a gala and yes it's also Portland, and yes people have different standards anyway. We like Business Casual / Smart Casual / Casual Elegance – but we'll be equally happy to see you whatever you wear :-)
Parking: There is street-side parking around the Cast Away building and surrounding streets, especially after work hours. Conveniently, there is a parking lot directly across at 1898 NW 17th Ave which holds more than 100 vehicles.
A Special Gift To You: Our partners at Columbia Sportswear have given us Employee Store Passes for everyone who attends! A pass is available as you check in. Thank you Columbia!
Explore: Discover the latest Japan-related news from organizations in our Member Showcase – The International School of Portland, Kuze Fuku & Sons, Portland Japanese Garden, and Denison Wines for wine-tasting!
Network: Business leaders we hear from always stress – "make your net work." There will be 200+ gala attendees and you have only 180 minutes, so this is an amazing opportunity to really strengthen your network in the US-Japan relationship. Our Board of Directors will also be gathered for the evening, so it's a great way to learn more about JASO and their involvement.
Silent Auction: Members and supporters have donated all kinds of items, large and small, to help us fund raise. Please enjoy bidding on a fun assortment of gifts, many Japan-related!
Raffle: Our 50/50 raffle is a great way for you to walk away with more cash than you arrived with. Buy up to $50 in tickets. At the end of the evening, we split all money collected 50/50 with the owner of the lucky winning number. Last year's winner walked away with over $600!
Oral Auction: Delta Air Lines has kindly donated two round-trip main cabin tickets PDX-Tokyo. The value of these tickets is over $2,300. United Grain Corporation has kindly donated a private party for up to 20 at any Timbers or Thorns game in an exclusive Sky Box room – food and beverages included. The value of this opportunity is $6,000. ALL money raised goes directly to support JASO programs.
Our sponsors: Everyone who buys a ticket to attend, a raffle ticket, or wins a silent auction item contributes to JASO's work. But we owe a special thank you to our sponsors – who go the extra mile (or two, or more) to make sure all our programs are well-funded and able to continue securely.