JASO kicks off our Women's Leadership programming for 2023 with our highly acclaimed luncheon event. On Thursday February 9th we'll be in conversation in-person in downtown Portland at the Sentinel Hotel with two successful Japanese women breaking barriers to leadership in today's business world.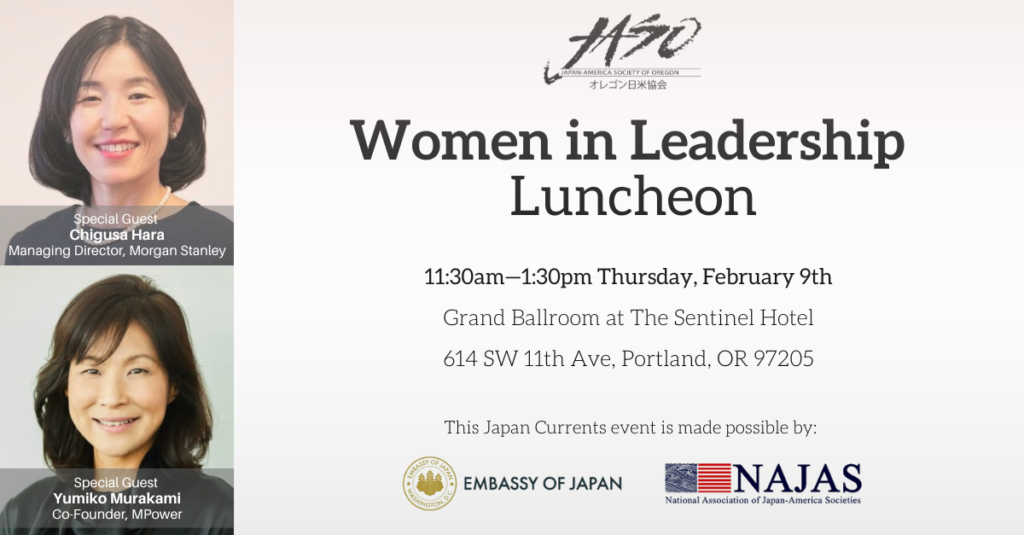 Yumiko Murakami flies in from Tokyo to join us in conversation on her career path and life journey as a Japanese woman who was educated at Sophia, Stanford and Harvard; then into work at the United Nations, MD for Asia at Goldman Sachs and Credit Suisse, before 8 years as head of the Tokyo Center of the Organization for Economic Cooperation and Development (OECD). In 2021 she launched and co-founded MPower, Japan's first ESG integrated global venture capital fund. Yumiko is also a published author and raised 3 children.
Chigusa Hara started her schooling at Aoyama Gakuin University in Tokyo, and moved into the workforce at Morgan Stanley's Tokyo office 26 years ago. Chigusa has since worked her way up the company to become Managing Director at the New York office, where she is Head of Audit for Enterprisewide Functions. Along the way, she has headed the company's work as Head of Audit for both New York and Asian Operations. Chigusa is active in several in-house and external diversity and equity groups, and a climate action organization.
All registrations include a lunch of salad, chicken or vegetarian main dish, sweet treat with coffee or tea. Individual tickets are just $35 for members, $50 for non-members.

This event is part of the nationwide Japan Currents series, a project of the Japanese Embassy in Washington DC in partnership with the National Association of Japan America Societies.
Program Schedule
11:30am Check-in opens, networking
12 noon Lunch served, program begins
1:30pm Program closes
In the fall JASO will offer our third year of in-depth leadership skills workshops specifically targeted to Japanese, Japanese American and all API women. National leader Linda Akutagawa will lead this program, with the first session in-person in Portland, plus additional zoom sessions online.
Sponsorships for access to both programs range from $5,000 to $500. All include a table for 6 at our February lunch. Sponsorship descriptions are HERE.
Our luncheon is a Japan Currents event, made possible by

in partnership with

Program sponsors