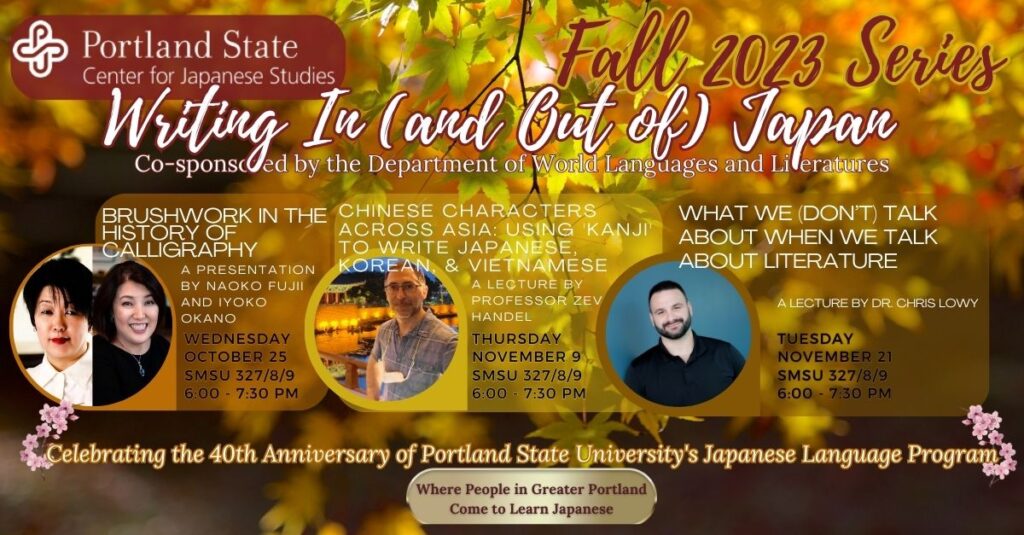 For additional information about these events, click HERE.
Celebrating the 40th Anniversary of Portland State University's superb Japanese Language Program, the Center for Japanese Studies presents a three part series: Writing In (And Out of) Japan. This series is co-sponsored by the Department of World Languages and Literatures and will run throughout 2023's Fall Term. All events will be hosted in Smith Memorial Student Union Room 327/8/9, are open to the public, and have free admission. We hope to see you there!
Brushwork in the History of Calligraphy | October 25, 2023 (Wednesday) 6:00 – 7:30 PM
This presentation will be by Naoko Fujii and Iyoko Okano, Members of the Meito Shodokai (Japanese Calligraphy) Association, on the various brushwork stemming from calligraphy styles that developed at different times and how they are reflected in classics.
Chinese Characters Across Asia: Using 'Kanji' to Write Japanese, Korean, and Vietnamese | November 9, 2023 (Thursday) 6:00 – 7:30 PM
Professor Zev Handel of the University of Washington will be presenting this lecture on the influence of the Chinese writing system in Asia and its adaptation to the region's various languages, specifically in Japan, Korea, and Vietnam, as well as exploring how it is still used in Japan today.
What We (Don't) Talk About When We Talk About Literature: The Visual Representation of Language & Why It Matters | November 21, 2023 (Tuesday) 6:00 – 7:30 PM
In this talk, Dr. Chris Lowy of Carnegie Mellon University will introduce the characteristics of the Japanese writing system that allow it to create unique visual representation of language and he will introduce examples from a variety of sources that demonstrate just how significant the aesthetic of Japanese script can be. For more information about the Center for Japanese Studies and our upcoming events, click HERE.