grab your chance to visit the beautiful and mysterious
Toyama-ken
join us and enter our virtual speech contest for college students in Oregon and Southwest Washington
Toyama Cup Virtual Japanese Speech Contest


Saturday, April 24, 2021 4pm-7pm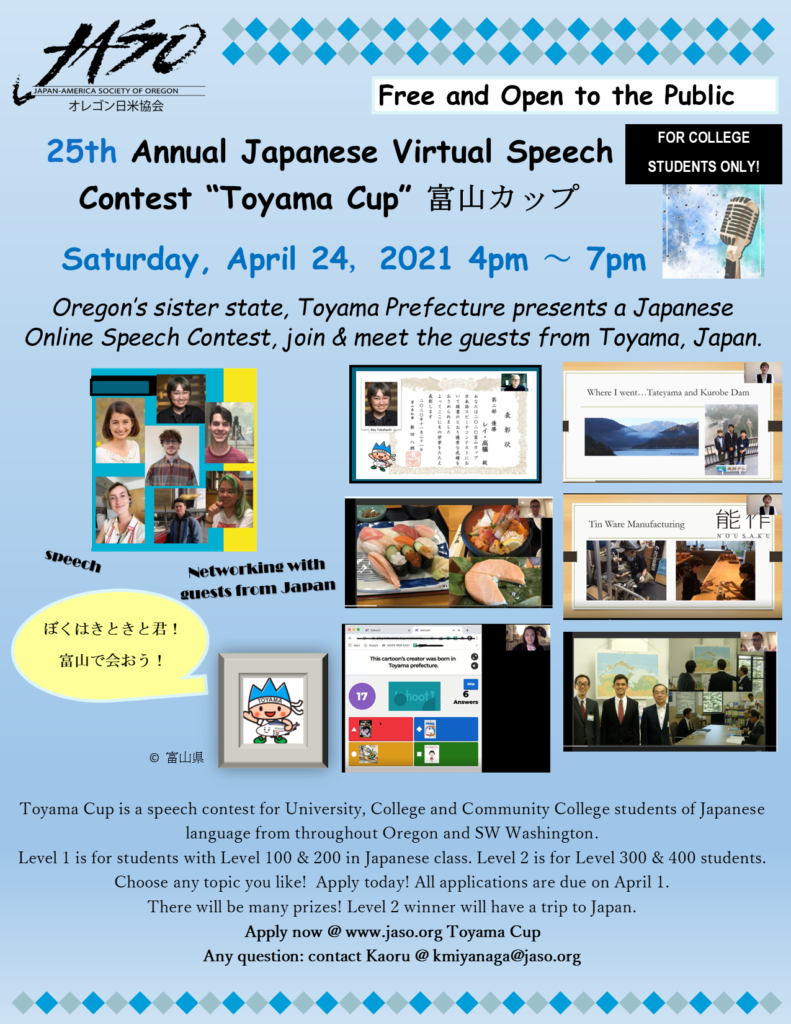 Toyama Cup is a speech contest for University, College and Community College students of Japanese language from throughout Oregon and SW Washington. Level 1 is for students in Japanese 100 or 200, and Level 2 is for students in Japanese 300 & 400. Choose any topic you like!
All applications are due on April 1.
Students' Guidelines and application:

Level 2 winner wins a free trip to Toyama Prefecture … and there are prizes for the top 3 participants at both levels.
2021 Event Program
4:00-4:15 PM Welcome and Zoom Etiquette
4:15-4:20 PM Greeting from Toyama
4:20-4:25 PM Toyama Cup Guideline
4:25-4:55 PM* Level 1 Speech
5:00-5:30 PM* Level 2 Speech
5:30-6:10 PM Networking with guests from Japan
5:30-6:10 PM Judge's Evaluation
6:10-6:40 PM Judges Commentary, Presentation of Awards Greeting from Consul General
*Please note that times may vary.
2019 Winner – Ronan Hall from Lewis and Clark College. Read about Ronan's trip here.
2018 Winner – Jack Glenn from Willamette University. Read about Ronan's Trip here.?
2017 Winner – Natasha Milligan from Willamette University. Read Natasha's Trip Blog here
2019 Photos – here
Discover beautiful Toyama-ken on YouTube
Thank you to our Gold sponsors:
Thank you to our Silver sponsors:
Thank you to our Bronze sponsors:
Thank you to our Supporters: