Corporate Member Benefits & Dues
When you become a JASO member, your investment makes 3 areas of work possible.
PROGRAMS – all of our programming in business, education and culture
BENEFITS – you receive benefits for your business as listed
SERVICES – our staff and other members will help you find answers to your business needs and offer business referrals. Our most valuable assets are our wide-ranging relationships with members and the wider community.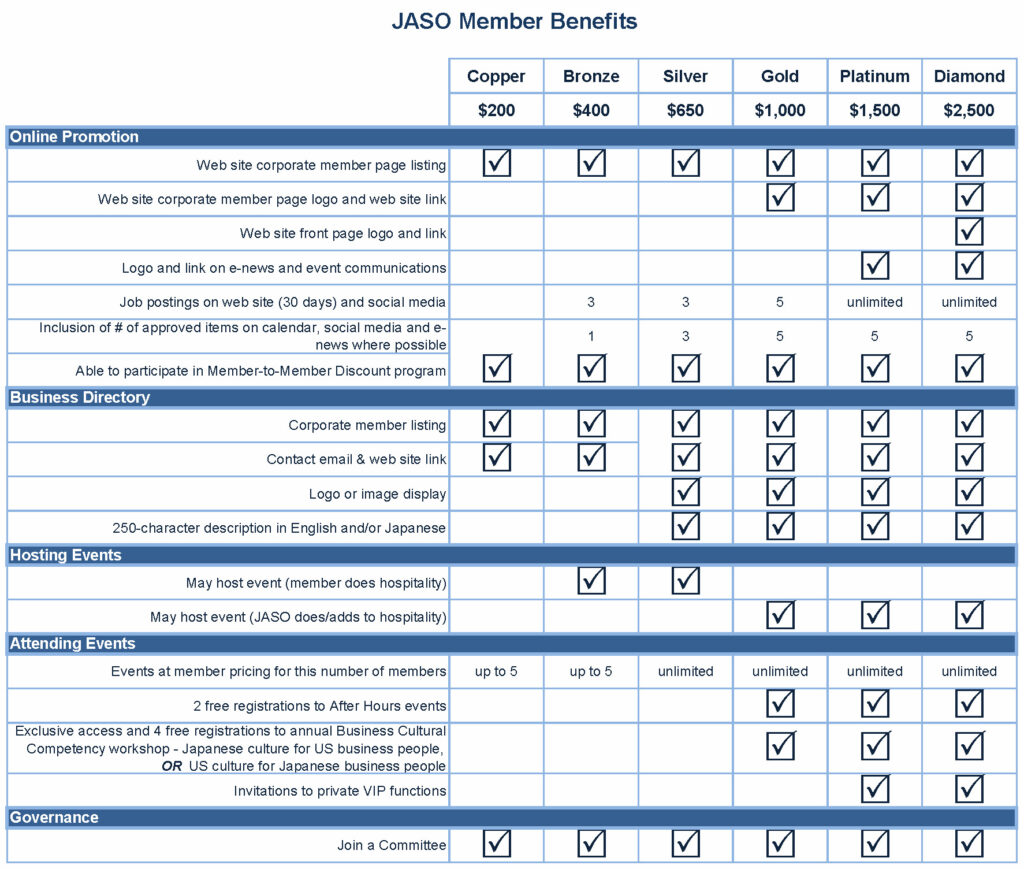 JASO web site front page logo and link
JASO web site corporate member page listing, logo and link
Enhanced JASO Business Directory with your logo or image plus a 250-character description, alongside contact email, web site link and listing
Unlimited members able to access events at member pricing
Inclusion of approved item on calendar, social media and e-news where possible
Logo and link on e-communications
Unlimited Job postings on web site and social media
May host event (if without hospitality, JASO will provide)
2 free tickets to After Hours events
Your choice of annual Business Cultural Competency seminar – for up to 4 staff – for US staff learning about Japanese business culture, or for Japanese staff to learn about US business culture.
Invitations to private, VIP functions
Able to promote Member-to-Member discounts through JASO web site and other mechanisms
JASO web site corporate member page listing, logo and link
Enhanced JASO Business Directory with your logo or image plus a 250-character description, alongside contact email, web site link and listing
Unlimited members able to access events at member pricing
Inclusion of approved item on calendar, social media and e-news where possible
Logo and link on e-communications
Unlimited Job postings on web site and social media
May host event (if without hospitality, JASO will provide)
2 free tickets to After Hours events
Your choice of annual Business Cultural Competency seminar – for up to 4 staff – for US staff learning about Japanese business culture, or for Japanese staff to learn about US business culture.
Invitations to private, VIP functions
Able to promote Member-to-Member discounts through JASO web site and other mechanisms
JASO web site corporate member page listing, logo and link
Enhanced JASO Business Directory with your logo or image plus a 250-character description, alongside contact email, web site link and listing
Unlimited members able to access events at member pricing
Inclusion of up to 5 approved items on calendar, social media and e-news where possible
Up to 5 Job postings on web site and social media
May host event (if without hospitality, JASO will provide)
2 free tickets to After Hours events
Your choice of annual Business Cultural Competency seminar – for up to 4 staff – for US staff learning about Japanese business culture, or for Japanese staff to learn about US business culture, delivered by professional cultural competency experts. (tentative 2018 dates – 6-8pm Thursday March 1 – Learn US business culture; 6-8pm Thursday April 5th – Learn Japanese business culture)
Able to promote Member-to-Member discounts through JASO web site and other mechanisms
JASO web site corporate member page listing
Enhanced JASO Business Directory with your logo or image plus a 250-character description, alongside contact email, web site link and listing
Unlimited members able to access events at member pricing
Inclusion of up to 3 approved items on calendar, social media and e-news where possible
Up to 3 Job postings on web site and social media
May host event (providing hospitality)
Able to promote Member-to-Member discounts through JASO web site and other mechanisms
JASO web site corporate member page listing
JASO Business Directory listing, contact email and web site link
Events at member pricing for up to 5 people through year
Inclusion of 1 approved item on calendar, social media and e-news where possible
Up to 3 Job postings on web site and social media (30-day listings)
May host event (providing hospitality)
Able to promote Member-to-Member discounts through JASO web site and other mechanisms
$200 Copper – Small Business Start Up + Non-Profits
Small Business: Incorporated for less than 2 years and less than 6 employees
Non-Profit: less than 6 employees
JASO web site corporate member page listing
JASO Business Directory listing, contact email and web site link
Events at member pricing for up to 5 people through year
Able to promote Member-to-Member discounts through JASO web site and other mechanisms