Jan 19, 2023 Shinnenkai 新年会 by SakéOne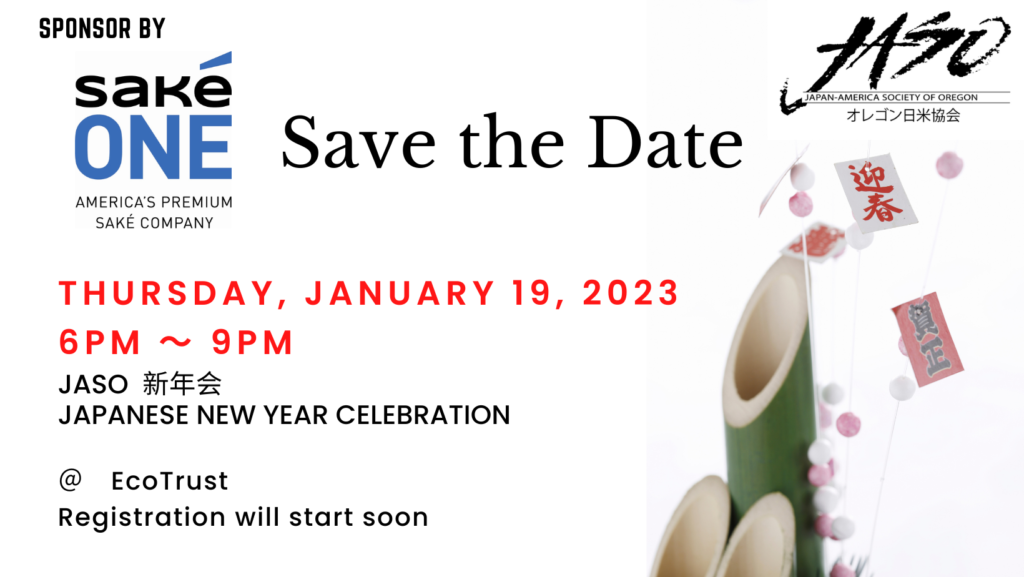 Thank you to everyone who joined us for our annual New Year's Celebration – 新年会 ! View pictures from this year's event HERE.
2023 Shinnenkai by SakéOne
From 6pm to 9pm at Ecotrust, Irving Street Studio 1F, 721 NW 9th Ave, Portland, OR 97209

Menu – Authentic Japanese Food and Drink
Osechi and Sushi by Sho Restaurant
Ozoni by Chef Naoko
Sake and sake cocktail by SakéOne
Activities:
Fukubukuro, Kimono, Games
New Year's Card Making by Shoka Stonelake
Entertainment:
Special Taiko Performers Takumi Kato and his family from Japan
Tsugaru Shamisen Music by Yumi Torimaru
.
2023年のスタートを皆さまの更なるご活躍を祈念し、1月19日(木)にオレゴン日米協会新年会を開催いたします。
新年のご挨拶の場として、多くの皆様にご参加いただけたら幸いです。
SakéOneのお酒、お正月料理とお雑煮、その他には福袋、絵手紙メイキング、太鼓パフォーマンス、三味線演奏やブースなどもあり、盛沢山のイベントです。是非お越しください!